Slow Cooker Chicken Enchilada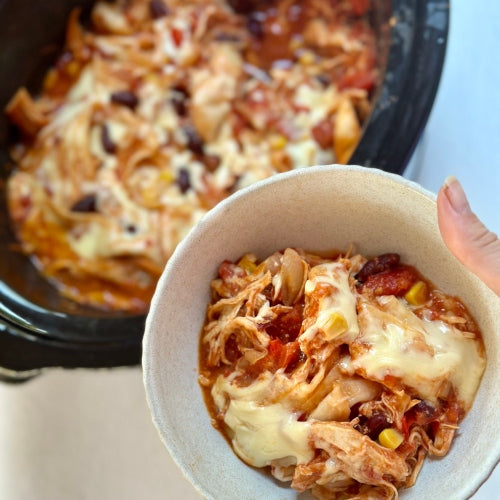 INGREDIENTS:
100g Chicken Breast (Raw)

50g Capsicum

75g Red Kidney Beans

50g Corn Kernels 

200g Diced Tomatoes

71g (1x) Lite Wraps

25g Cheddar Cheese (Light)

Onion, to taste

2tsp Taco Seasoning
METHOD:
*We recommend multiplying this recipe by 4 serves for batch cooking.
Prepare ingredients: slice onion and capsicum. 

To a slow cooker add chicken, onion, capsicum, beans, corn, diced tomatoes and taco seasoning. Cover and cook on high for 4 hours.

In the meantime slice tortillas into one-inch strips.

Once chicken is cooked pull apart using a fork.

Add tortilla strips to slow cooker and mix with chicken to combine. Top with cheese and cover for 5-10 minutes, until cheese is melted.
*This recipe can be stored in an air-tight container and kept in the fridge for 3-4 days.
NUTRITION INFORMATION
Calories: 511 
(1 serving)
Protein: 45g | 
Fats: 11g | 
Carbs: 58g
Want access to 1,200+ recipes like this?