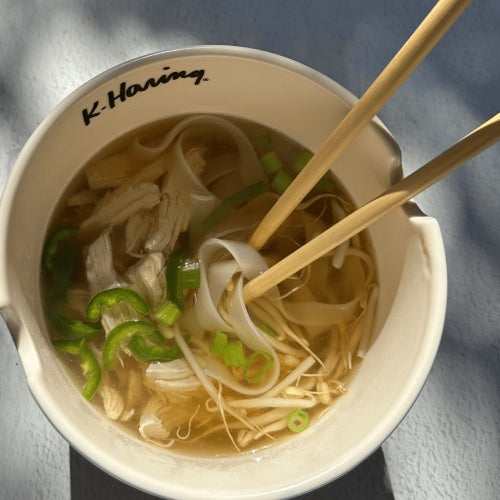 INGREDIENTS:
140g Chicken Breast (Raw)
50g Rice Noodles (Raw)
15ml Maple Syrup
40g Bean Sprouts
Ginger, to taste
Scallions, to taste
1tsp Coriander Seeds
3 cups Chicken Stock
1tsp Fish Sauce

J

alapeños, to taste
METHOD:
Prepare ingredients: peel ginger and thinly slice into 5c coin size, roughly chop scallions into 3 inch strips, slice jalapeños.

Heat pot over medium heat and add ginger, coriander seeds and scallions. Fry for 1-2 minutes, until fragrant. Pour chicken stock in pot and add chicken breast. Poach chicken until cooked (8-10 minutes) and set aside.

Simmer broth for further 15-20 minutes. Additional chicken stock can be added as desired.

In the meantime, shred chicken. 

Strain chicken broth and return to pot. Add fish sauce and maple syrup, stir to combine.

Cook rice noodles as per packet instructions.

Prepare pho: add rice noodles to bottom of bowl and top with shredded chicken, bean sprouts and jalapeños.
*This meal can be stored in an air-tight container and kept in the fridge for 3-4 days.
NUTRITION INFORMATION:
Calories: 384Protein: 36g | Fat: 3g | Carbs: 54g
Want access to 1,200+ recipes like this?