GET STARTED

WITH EMMA
The #1 MWU Program for beginners and new Mums!
We've all been there, and we know how daunting starting or re-starting your fitness journey can be, which is why we've created our Get Started Program.
You'll join Emma, a dedicated mother and expert Coach, as she guides you through 6 weeks of 30-45 minute workouts. PLUS gain access to customisable Meal Guides designed to meet your unique nutritional needs and help you achieve your goals.

Join Now
WHAT YOU'LL RECEIVE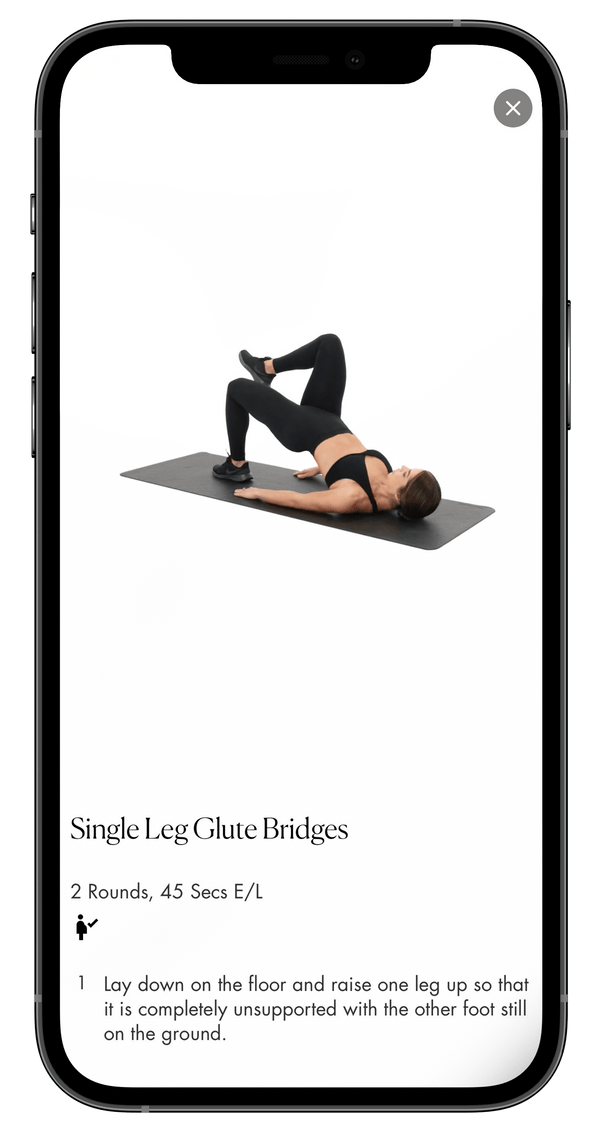 BEGINNER FRIENDLY HOME & GYM WORKOUTS
This structured training program is designed specifically to help you master the basics of training and nutrition. Choose from 3, 4 or 5 training days and receive access to easy to follow, guided 30-45 minute workouts.
SCIENCE-BASED NUTRITION
Customisable Meal Guides designed to meet your unique nutritional needs and help you achieve your goals. Calories and Meal Guides are not suited towards women who are pregnant or breast-feeding. Please consult your healthcare professional before following any Meal Guides or calories.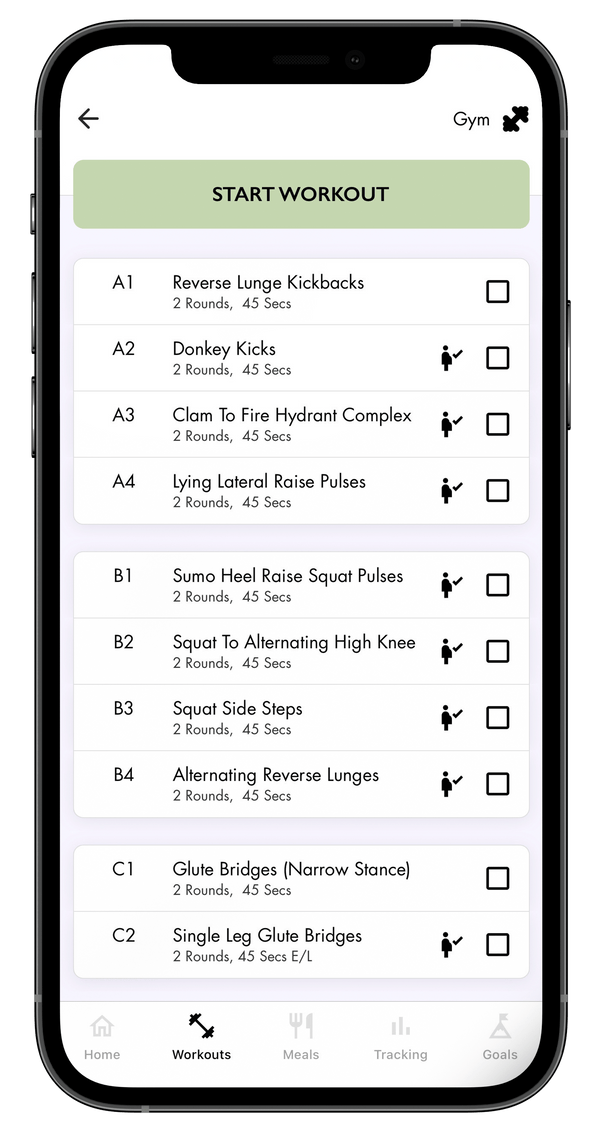 PREGNANCY EXERCISES AND SWAPS
In our Get Started Program, you'll have the ability to opt into pre and post-natal exercises and exercise swaps to guide you through your journey.
ABOUT THE

GET STARTED PROGRAM

6 Weeks

Full Body
Beginner

Meal Guides
By completing our GET STARTED PROGRAM you can expect to:
✓ Achieve a full body transformation.
✓ Acheive your weight loss goals.
✓ Improve your fitness levels.
✓ Learn the fundamentals of training and nutrition, and build sustainable habits.
✓ Create a healthy relationship with food and fitness.
Our GET STARTED PROGRAM is for those who:
✓ Are beginning their fitness journey and don't know where to start.
✓ Are ready to make a comeback, but lack the motivation to do it alone.
✓ Are looking for pre or postnatal exercises and exercise swaps.
✓ Enjoy easy to follow 30-45 minute workouts.
✓ Are looking to gain confidence inside and outside of the gym.
✓ Are ready to learn the fundamentals of training and nutrition, and build sustainable habits.
✓ Are new to MWU and are looking for an affordable way to move.
Throughout the GET STARTED Program you will discover a variety of workouts between 30-45 minutes in length.
Throughout this 6-week Program you will experience a mix of:
Low intensity and high intensity cardio sessions.
Full body and lower body weighted workouts.
Upper body circuits.
Core rep Challenges to finish your workout on a high.
Dedicated mobility sessions to assist with range of movement and texchnique.
Structured in three 2-week training blocks, this Program will increase in intensity as you progress using techniques such as AMRAPS and EMOM's.
WHAT YOU CAN ACHEIVE

WITH MOVE WITH US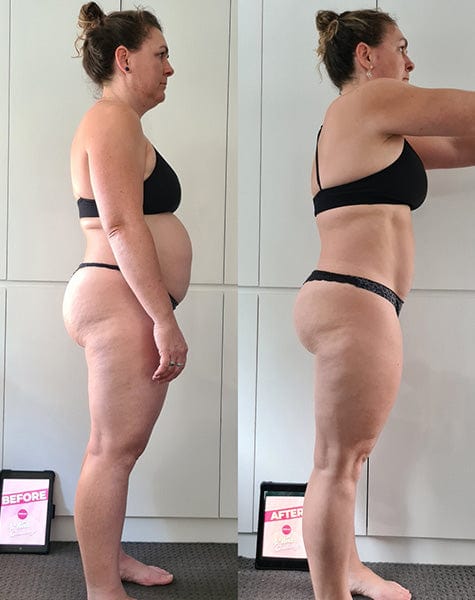 I am so proud of this achievement! To see it in pictures, really highlights the hard work. I didn't think I'd made much of an impact, but these after photos show some movement in the right direction! Thank you! - 4 weeks of training, only missed 2 or 3 days. Feeling stronger, healthier and a little more confident in this body.
- Melinda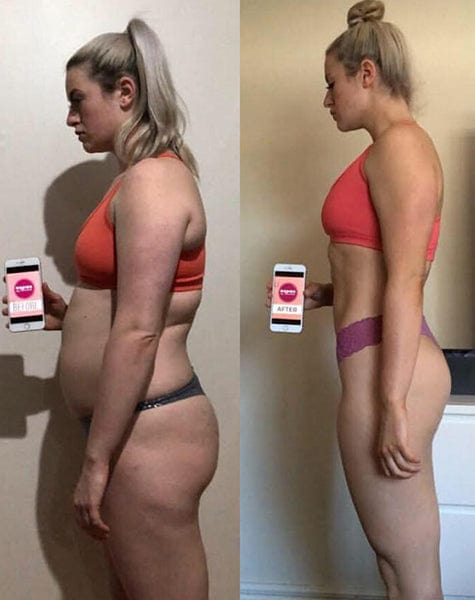 I've lost a total of 18.5cm, and 3kgs but for me the biggest change has been mental. My mindset and perception of myself as completely changed, I'm wearing clothes I never would've worn before and I'm starting to feel confident and happy in my skin! This group is amazing and what you girls are doing is incredible.

- Madeline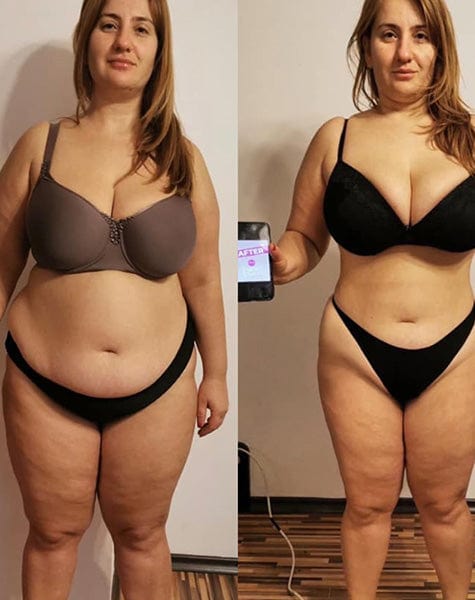 It was amazing experience 😍 The exercise splits were amazing and so challenging. I felt happy and proud of myself for being able to do them. This also helped me being strict with my diet [...] The app is amazing. Especially the self care list. Can't wait to join the next challenge! I love how my butt is getting sexier and tighter!
- Meg
I'm really proud of myself for completing this challenge and being consistent with my diet and workouts… I started seeing little changes, which was why I kept going, and the meals that I was eating were giving me the energy I had never had before. Although I might look different physically, the changes I have mentally are by far more significant.
- Ruby





Frequently Asked Questions
Intakes commence 10am every Monday and as soon as you confirm your order, you will receive instructions on how to access our App and begin preparing for Day 1.
A standard gym should provide all equipment required to complete gym workouts.
If you're completing Get Started from home, we recommend having:
✓ Yoga Mat
✓ Skipping Rope
✓ Set of Dumbbells (ideally 1x lighter pair and 1x heavier pair)
✓ Resistance/Power Bands
✓ Bench
✓ Cotton/Booty Band
✓ Ankle Weights
Need to get supplies before you start? Shop our Equipment here. 
You'll receive app access right away just keep an eye out for an email from our team on how to get started in the MWU App.
Yes! You can use our 'Restart Program' feature allowing you to start the following Monday.
Enjoy 12 weeks of full app access. Alternatively, explore our Membership options for 12 months App Access.
Yes! You will have the option to choose from a 4, 5 or 6 day training split each week.
Yes! You can switch between home and gym workouts by toggling between the dumbbell and home icon in the workouts tab.
Yes, you certainly can! If you are not ready to purchase our Platinum Membership, you can join our Program separately. Keep in mind that you will only receive 12 weeks of App Access when purchasing separately.
Absolutely! With our Platinum Membership, you receive access to ALL available MWU Programs and Levels for 12 months.