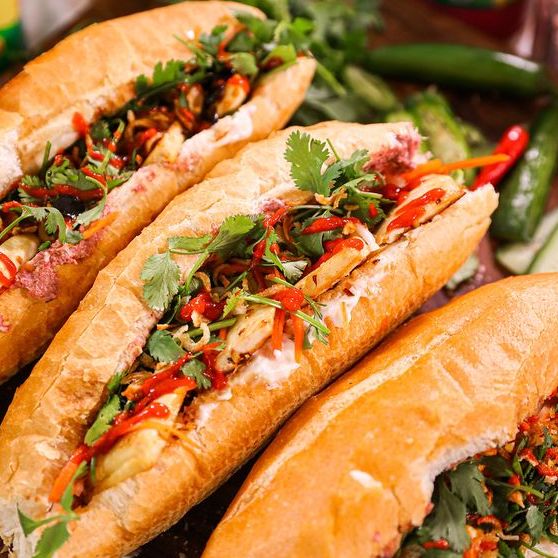 Ingredients (Serves 1): 
65g Baguette
100g Pork Steak (Lean) (Raw)
40g Cucumber
50g Carrots
20ml Hoisin Sauce
10g Kewpie Sriracha Mayonnaise
Flavour Boosters:
Fresh Chilli, to taste
Coriander, to taste
Sugar Free Tomato Sauce, 1 tsp
Fresh Ginger, 0.5 tsp
Garlic, 0.5 clove
Directions:
Prepare pork steak: slice into 2cm thick pieces and set aside.
Prepare vegetables: thinly slice cucumber, grate carrot, mince garlic and grate ginger.
Roughly chop coriander and chilli.
In a bowl combine hoisin, tomato sauce, ginger and garlic. Add pork and combine with sauce. Leave to marinate overnight or for at least one hour.
Heat a medium-sized pan over medium heat and apply a light spray of oil, if necessary.
Once hot, add pork and cook for 3-4 minutes each side, until edges are crisp and pork is cooked through.
Prepare banh mi: slice baguette down the middle and top with kewpie, cucumber, carrot, cooked pork, chopped coriander and chilli 
*Ingredients can be stored in a separate air- tight container and kept in the fridge for 3-4 days. We recommend assembling banh mi at time of consumption.
Calories: 373 | P: 30g | F: 7g | C: 47g