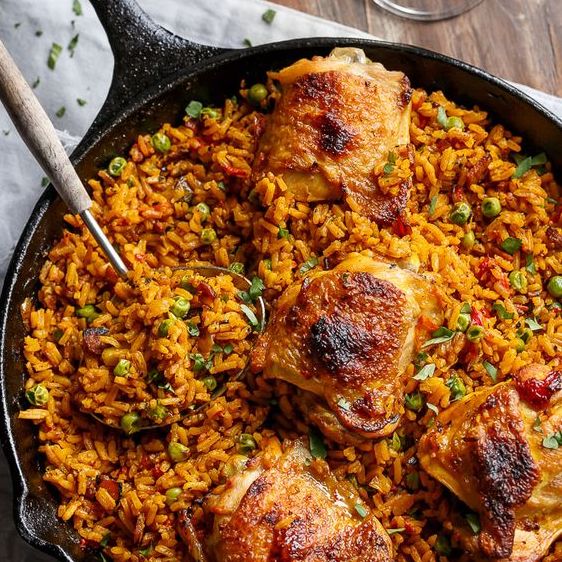 Ingredients (Serves 1): 
100g Chicken Thigh (No Skin)
50g White Basmati Rice (Raw)
125ml Chicken Liquid Stock (Campbell's)
60g Capsicum (Bell Peppers)
Flavour Boosters:
Lemon Juice, to taste
Fresh Parsley, to taste
Garlic Powder, 0.25 tsp
Onion Powder, 0.25 tsp
Dried Thyme, 0.25 tsp
Paprika 1tsp
Directions:
Prepare ingredients: finely dice capsicum and roughly shop parsley.
Heat a medium sized pan over medium-high heat and apply oil, if necessary. Once hot, add chicken thigh and cook for 4-5 minutes stirring regularly until lightly browned. Remove cooked chicken from pan and set aside. 
In the same pan, add the raw rice capsicum and saute for 1 minute until lightly toasted. Pour in the chicken stock, garlic powder, onion powder, dried thyme, paprika and lemon juice and stir while bringing to a boil. Once boiling, reduce the heat to low and simmer for 5 minutes. 
Add browned chicken thigh back into pan and continue to simmer for another 15-20 minutes or until rice is cooked. 
Serve with a sprinkle of fresh parsley and a squeeze of lemon juice. 
*This meal can be stored in an airtight container and kept in the fridge for 3-4 days. 
Calories: 314 | P: 24g | F: 5g | C: 43g