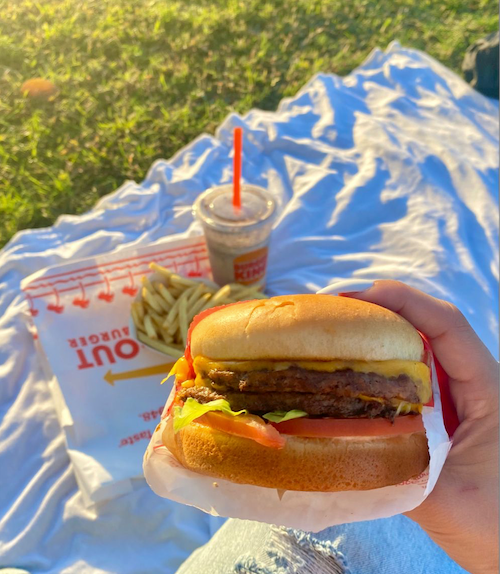 If you've been craving fast food, these recipes are tailor made for you. So put down the Uber Eats down and dive into of our favourite fakeaway feeds!
Big Mac Tacos
Ingredients:
2x Mini Tortilla Wraps
120g Beef Mince (Lean) (Raw)
12g Lettuce
20g Special Burger Sauce
50g Cheddar Cheese (Light) Tasty)
Directions:
Place wraps on plate. Divide beef mince equally amongst wraps. Using fingers press beef mince down directly on wrap and evely spread to edges. Season to tasty with salt and pepper.
Heat pan over medium heat and apply a ligth spray if oil, if required. Place taco beef side down and cook for 2-3 minutes, until mince is cooked.
Flip taco to beef side up and top with cheese. Cover with lid and let cheese melt for 1 minute.
Transfer back to plate and top with shredded lettuce and special burger sauce.
Calories: 681 | P: 48g | F: 37g | C: 38g
Bang Bang Chicken
Ingredients:
150g Chicken Breast (Raw)
40g Corn Flakes
15ml Teriyaki Sauce
1x Egg
1/2 tsp Cayenne Pepper
1 tsp Chicken Stock Powder
1 tsp Sriracha
Directions:
Dice chicken into one inch pieces.
In a small bowl crack egg and whisk to form egg wash. In second bowl add corn flakes, cayenne pepper and stock powder. Using your fingers break corn flakes to form crumb.
Dip each chicken piece in egg wash followed by corn flakes and set aside.
Transfer chicken pieces to air fryer basket. Cook in air fryer at 180°C for 8-10 minutes, until cooked thorugh.
In the meantime mix teriyaki with sriracha in a small dish to create marinade.
Remove from air fryer and transfer to plate. Drizzle marinade over chicken and enjoy!
Calories: 399 | P: 43g | F: 8g | C: 39g
Crispy Chicken Burger
Ingredients:
100g Chicken Breast (Raw)
15g Corn Flakes
8g Lettuce
8g Mayonnaise (99% Fat Free)
1x Brioche Burger Bun
1tsp Chicken Salt
1/2 tsp Cayenne Pepper
1/2 tsp Paprika
Directions:
Crack egg in a small bowl and whisk, set aside.
Add corn flakes to second bowl with chicken salt, cayenne pepper and paprika. Using your fingers crushed corn flakes and mix with seasoning.
Dip chicken breast in egg wash followed by corn flakes ensuring to press down to coat.
Transfer chicken breast to air fryer basket and lightly spray with oil. Cook in air fryer at 180°C for 12-14 minutes, until cooked through.
Prepare burger: slice burger bun. Top bottom half with mayonnaise and lettuce. Add chicken on lettuce and close.
Calories: 366 | P: 30g | F: 7g | C: 46g
Interested in more fakeaway feeds just like these? Join Eat With Us today for less than 50c a day!