Meal Prep Hacks and Prep Friendly Recipes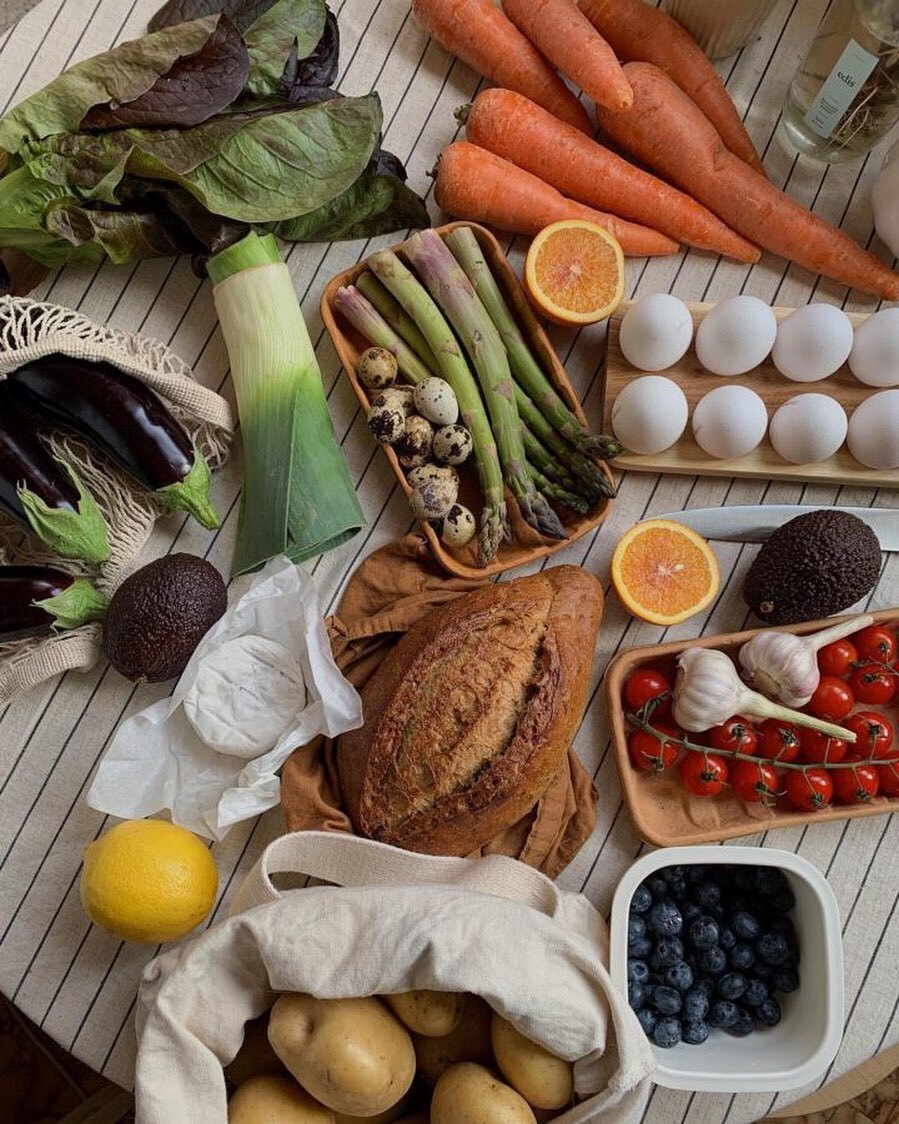 Meal prepping is a ritual so many of our clients swear by, and is especially handy if you're short on time, work long hours, or you're just not the biggest fan of cooking every day.
Not only do you save time in the kitchen, you also save money by buying your groceries in bulk for the week, and it helps you stay on track when your food is already prepped and ready to go.
It might sound a bit daunting if it's your first meal prep rodeo, but we promise that once you're familiar with the art of meal prepping, you'll fall in love with the perks and never look back.
Keep reading for our top tips and hacks to help you become a meal prep pro, and discover 4 of our favourite new meal-prep friendly recipes for your next cook-up. 
1. Pre-plan your meals for the week 
In the Move With Us App, we provide you with customisable Meal Guides that cater for your personal goals and preferences. After joining your program, you'll receive a personalised plan containing 5 daily meals that fit within your recommended calories and macro targets.
Set yourself some time to go through your Meal Guide and plan out your week of eating with the foods you love. You can select from a wide variety of set Meal Guides, add and swap meals from our library of 1000+ recipes, or create your own meal plan.
If you're new to tracking and meal prepping, we recommend sticking to one Meal Guide for the week so you can simply shop and prepare for 5 meals. Once you've got the hang of it, then you can mix up your meals more often and create different days of eating throughout the week.
Schedule in a time to do your food shopping each week too. We know how stressful a weekly grocery shop can be if your meals aren't planned. It'll often end up in a few smaller trips to the shops throughout the week, some impulsive treats added to the trolley, or maybe a few takeout meals if you didn't prep anything. 
The MWU App makes it easier than ever to be organised. We provide you with a Shopping List that includes a week's worth of all your Meal Guide foods and the exact quantities you need. You can also add any extra items you need, and explore the Flavour Boosters section of our favourite pantry staples we recommend having on-hand.

Bonus shopping tip: If you love cooking shortcuts, opt for microwavable rice packets, pre-cut meats, and frozen vegetables and fruits!
2. Dedicate a day for meal prepping 
We recommend dedicating a set day to do all your meal prepping for the week ahead. For example, blocking out 2 hours every Sunday afternoon to cook your lunches and dinners. Depending on your schedule, you might even prefer to break it into two meal prep sessions with a mid-week cook up.
When you're tracking your food intake it can be tricky to measure and calculate each ingredient you're cooking. So we've created a handy Serving Size tool in the MWU App to take away all the guesswork and confusing calculations for you!

When meal prepping, simply click the + button next to the app recipe to select the number of serving sizes you wish to make, and voilà - the quantity of ingredients you need and nutritional information will update accordingly. 

If you come across any ingredients you don't like or don't have on hand, you can use the Food Swap feature within the recipe to find an alternative ingredient that has similar macros. 

You can also use the Food Swap feature to switch between the raw or cooked quantities for foods such as meat, pasta or rice, and weigh them accordingly. Note that most recipes will show the quantity required for cooked foods by default, except for egg whites and oats.

For non-starchy vegetables, it doesn't matter whether you weigh them as cooked or raw, as it makes very little difference in the nutritional makeup. However, we do recommend weighing any starchy vegetables such as potatoes or pumpkin cooked. 
3. Invest in reusable containers  
It's a worthwhile purchase to stock up on some reusable food containers that you can store and reheat your meal preps in.
Opt for those labeled heatproof or microwave-safe, (and BPA or phthalate free) to make sure they can withstand high temperatures so no plastic is melting into your food.
Storage time is another important thing to consider. Most foods that can be meal prepped are safe to be stored in an air-tight container and refrigerated for around three to five days, and can also be frozen to last you a little longer.

To keep your meals as fresh as possible, we recommend storing your salads and vegetables in seperate containers, and add any dressings or sauces at time you're actually eating them.

You'll find that the majority of meals in the MWU App have a recommended storage time listed with the recipe methods for your reference.

Here's a general guide of safe refrigeration times for cooked foods:

Chicken: 3-4 days
Plain pasta: 3-4 days
Meat substitutes: 3-4 days
Seafood: 2-3 days
Open yoghurt: 2-3 days

4. Portion out your meals and snacks 
If you follow the correct quantities when cooking, there's no need to weigh out each ingredient separately when dividing your meals into containers.

For example if you're meal prepping for 4 days, you'll still be consuming the same amount of total calories across the 4 days no matter the size - so simply eye ball your portions into 1/4 servings.

But as a hot tip for weighing portions on the scales, for any measurements out of a jar, simply take off the lid and place it on the scales. Then tare the scales to read zero, and scoop out your desired weight.
To take your organisation to the next level, you can even meal-prep your weekly snacks and other storable foods like breakfast cereals, by pre-measuring your portions into containers for the week.

You could also pre-wash, chop up, and store your fruits and vegetables after every grocery shop. Not only will this save you time when it comes to cooking, you'll also be more likely to reach for a nutritious snack when it's ready for you to grab on the go.
5. Try our new meal prep recipes  
Meal prepping doesn't mean you have to compromise on flavour and freshness. This month, our team of in house Dietitians have launched 20 new meal prep friendly recipes to help you start the year strong. 
Whether you're looking for some on-the-go breakfasts, or one-pan cooked dinners, these handy recipes have got you sorted. 
Please note that these recipes and nutritional information are only for a single-serve portion.

Simply multiply the quantity of ingredients by the number of serves you'd like to meal prep. 
Greek Chicken Salad

Ingredients
120g Chicken Breast (No Skin) (Raw)

50g Cherry Tomatoes

50g Cucumber

40g Tzatziki Dip

55g Brown Rice (Raw)

Red Onion, to taste

2 tsp Lemon Juice

1 clove Garlic

½ tsp Dried Oregano
Directions
Prepare ingredients: slice onion, halve tomatoes, dice cucumber and mince garlic. Slice chicken into thin strips.


Add lemon juice, garlic, oregano, salt and pepper to chicken and mix to evenly combine. Let chicken marinate for at least 15 minutes prior to cooking.


Heat a pan over medium heat and apply a light spray of oil, if necessary. Add chicken and cook for 3-4 minutes each side, until cooked through.


In the meantime, cook rice as per packet instructions.


Add rice to one side of container or plate and add chicken, tomato, cucumber and onion on opposite side.


To serve, top with tzatziki. 

*This meal can be stored in an air-tight container and kept in the fridge for 3-4 days.
Nutrition
Calories: 366
Protein: 34g
Fat: 6g
Carbs: 45g 
Pumpkin and Kale Bowl
Ingredients
120g Butternut Pumpkin (Raw)

10g Walnuts

20g Kale

25g Brown Rice (Raw)

25g Quinoa (Raw)

Red Onion, to taste

½ tbsp Balsamic Vinegar

½ tbsp Paprika
Directions

Preheat oven to 180°C and line a baking sheet with parchment paper.


Prepare vegetables: dice pumpkin into small cubes, roughly chop kale and slice onion.


Heat a pan over medium heat and apply a light spray of oil, if necessary. Add onion and cook for 2-3 minutes. Add kale to pan with balsamic vinegar and cook for 4-5 minutes, until kale begins to wilt.


Add pumpkin to baking sheet and season to taste with salt, pepper and paprika. Bake in oven for 15-18 minutes, tossing half way.


In the meantime, cook rice and quinoa as per packet instructions.


Assemble bowl: add rice, quinoa and pumpkin to bottom of bowl and top with kale and walnuts.

*This meal can be stored in an air-tight container and kept in the fridge for 3-4 days.
Nutrition

Calories: 299
Protein: 10g
Fat: 10g
Carbs: 42g
Teriyaki Salmon Bowl
Ingredients
125g Salmon (Skin Off) (Raw)

50g White Basmati Rice (Raw)

60g Zucchini

50g Edamame Beans

25ml Teriyaki Sauce (Gluten Free Optional)

1 clove Garlic
Directions
Add salmon to a shallow container and coat in teriyaki sauce. Cover and let marinate for at least 2 hours or overnight.


Transfer salmon to air fryer basket and air fry for 8-10 minutes, until salmon is cooked through.


In the meantime, cook rice as per packet instructions.


Prepare vegetables: spiralise zucchini, mince garlic and prepare edamame as per packet instructions.


Heat a pan over medium heat and apply a light spray of oil, if necessary. Add garlic and zucchini and gently toss for 3-4 minutes.


Add salmon to a container or plate along with rice, zucchini and edamame.

*This meal can be stored in an air-tight container and kept in the fridge for 2-3 days.
Nutrition

Calories: 569
Protein: 36g
Fat: 24g
Carbs: 52g
Bircher Overnight Oats


Ingredients
45g Bircher Muesli Mix

80g Greek Yoghurt (Vanilla) (No Fat 0%)

15g Whey Protein Powder

80ml Milk (Low Fat)

60g Apple

Ground Cinnamon, to taste

1 tbsp Sugar Free Maple Syrup
 Directions
Combine all ingredients (except apple) in a container and mix until all ingredients are thoroughly combined.


Seal container and store in fridge overnight (or for 1 hour minimum). Serve cold topped with diced apple.

*This meal can be stored in an air-tight container and kept in the fridge for 3-4 days.

Nutrition
Calories: 371
Protein: 27g
Fat: 10g
Carbs: 44g
Happy meal prepping!
To discover more delicious and nutritious meal prep ideas, head to the Recipe Library in the Move With Us App, where you can filter recipes by your specific calories, macros or dietary restrictions. 
Join one of our Programs to receive 12 weeks access to all features of the MWU App, including customised Meal Guides and an ever expanding library of 1000+ delicious and nutritious recipes.
Explore our range of programs here and kickstart your health and fitness journey today.