5 Meals to Meet Your Micronutrients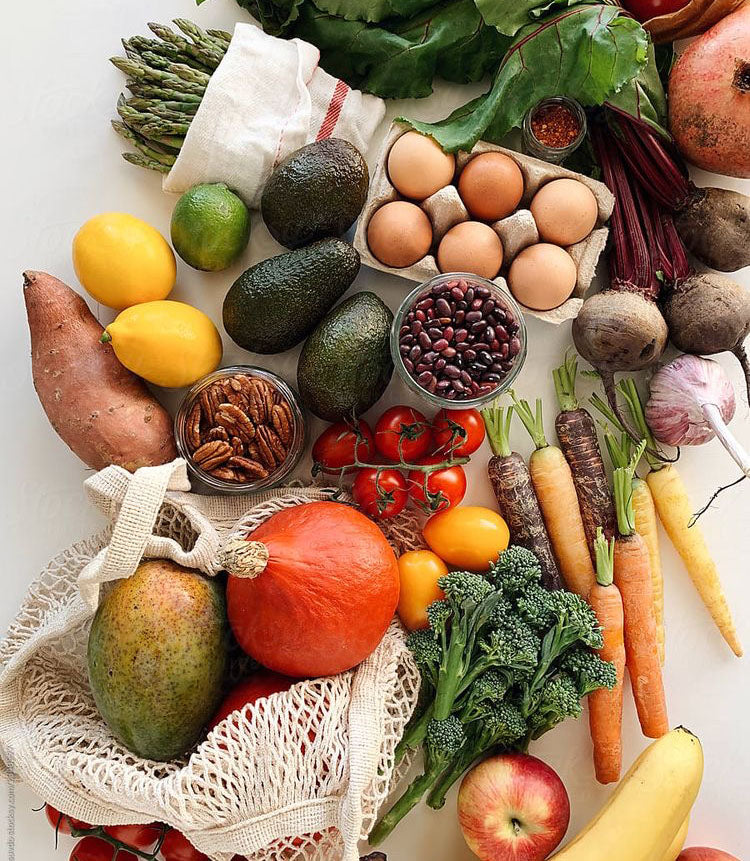 There's lots of talk about the three main macronutrients, your protein, carbs and fats, but you might not have heard about the other group that's just as important - 
your
micronutrients.

Micronutrients are the vitamins and minerals we consume through foods or dietary supplements, which play a range of important roles within our body. Your micros help support the immune system, facilitate muscle recovery, and do so much more to keep us functioning and thriving at our very best.
So how do we make sure we're consuming all of these essential vitamins and minerals?

The easiest way is aiming for a diet that's rich in a variety of fruits, vegetables, whole grains and proteins.

Different coloured fruits and vegetables also contain varying combinations of micronutrients, which is why it's so important to eat the rainbow.
This month, our Team of dietitians have created a collection of delicious, nutrient-dense recipes that will help you boost your micronutrient intake.

Here are 5 easy-to-make, micronutrient-rich meals to fill your plate with.
Note that these recipes and nutritional information are for single serve portions. Simply multiply the quantity of ingredients by the number of serves you wish to make.
Papaya Pineapple Sorbet
NUTRITION

Calories: 261
Protein: 2g
Fat: 8g
Carbs: 45g
Fibre: 5g
INGREDIENTS 
Papaya 200g

Pineapple 100g

Coconut Milk (Light) 100ml

Coconut Sugar 15g

Lemon Juice 1 tbsp
DIRECTIONS
Prepare fruit: remove skin from pineapple and papaya and cut into 1 inch pieces. Place in an air-tight container and freeze for at least 4 hours or overnight.


In a blender, add all ingredients and a pinch of salt. Blend to combine. 

*We recommend consuming immediately or transfer to a container and store in freezer.
DID YOU KNOW?
Along with containing more than your daily requirements of Vitamin C, 200g of papaya also contains one-third of your recommended Vitamin A intake.


Soba Noodle Salad
NUTRITION
Calories: 491
Protein: 20g
Fat: 17g
Carbs: 64g
Fibre: 9g
INGREDIENTS 
Edamame Beans 75g

Buckwheat Noodles (Soba) (Raw) 70g

Carrots 50g

Cucumber 50g

Sesame Seeds 10g

Sesame Oil 5g

Hoisin Sauce 20ml
FLAVOUR BOOSTERS
Scallions, to taste

Tamari, 1 tsp

Garlic, 1 clove

Fresh Ginger, ½ tsp
DIRECTIONS
Prepare vegetables: thinly slice cucumber into thin strips, grate carrot, thinly slice scallions, grate ginger and mince garlic.


Cook soba noodles as per packet instructions.


In a small bowl combine sesame oil, garlic, tamari, ginger and hoisin. Stir to combine.



In a large bowl add cooled soba noodles, carrots, cucumber, scallions and edamame. Toss to combine and top with sauce and sesame seeds.
DID YOU KNOW?
Edamame is high in Vitamin B9 known as Folate. This is important for healthy cell growth and function, and also crucial during early stages of pregnancy.

Green Sticky Date Smoothie
NUTRITION
Calories: 346
Protein: 9g
Fat: 11g
Carbs: 53g
Fibre: 9g
INGREDIENTS
Plant-Based Milk (Unsweetened) (Almond, Oat, Rice, Cashew) 200ml

Spinach 80g

Cashew Spread 15g

Dates (Pitted) 40g

Banana 50g

Cauliflower 60g
FLAVOUR BOOSTERS
Vanilla Essence 1 tsp

Ground Cinnamon ½ tsp
DIRECTIONS
Cut cauliflower into small florets.


Add all ingredients to blender and blend until smooth.


Additional cinnamon can be sprinkled on top, if desired.

Note: This smoothie can be made with frozen cauliflower for extra creaminess. 
DID YOU KNOW?
Spinach is a source of many micronutrients including Vitamin K. This helps us to make various proteins needed for building bones and blood clotting. Blending spinach into smoothies is a great way to maximise your micronutrient intake.


Matcha & Coconut Chia Seed Pudding 
NUTRITION
Calories: 346
Protein: 6g
Fat: 21g
Carbs: 33g
Fibre: 12g
INGREDIENTS
Matcha Powder 3g

Chia Seeds 25g

Plant-Based Milk (Unsweetened) (Almond, Oat, Rice, Cashew) 80ml

Coconut Milk (Regular) (Tinned) 50ml

Maple Syrup 25ml

Raspberries 40g

Dedicated Coconut (Unsweetened) 5g
DIRECTIONS 
In a bowl or jar combine chia seeds, matcha, milk, coconut milk and maple syrup. Mix to combine. 


Allow pudding to sit for 5 minutes and then stir again, to prevent any lumps. 


Cover pudding and refrigerate for 1-2 hours, or overnight. 



To serve, top with raspberries and coconut. 
*This meal can be stored in an air-tight container and kept in the fridge for 2-3 days. If you prefer a thinner pudding, stir additional milk or water into pudding before serving. 
DID YOU KNOW?
Matcha is rich in antioxidants. Consuming a diet rich in antioxidants may help to protect cells against damage.


Grilled Peach Salad
NUTRITION
Calories: 282
Protein: 21g
Fat: 19g
Carbs: 8g
Fibre: 2g
INGREDIENTS
Peach 90g

Prosciutto 45g

Rocket (Arugula) 25g

Mozzarella Cheese 30g

Olive Oil 5g

Balsamic Vinegar, 2 tsp
DIRECTIONS
Heat grill to medium heat.


Cut peaches in half and remove skin and pit. Lightly brush peaches with oil and season with pinch of salt.


Add peaches to grill cut side down. Cook for 3-4 minutes, until grill marks form. Flip to other side and cook for a further 3-4 minutes. Remove from grill and let cool.


Once peaches have cooled, slice into small segments.



Prepare salad, add rocket to bowl and top with peaches, shredded prosciutto and mozzarella. Drizzle with balsamic vinegar.
*Salad can be stored in an air-tight container and kept in the fridge for 3-4 days.
DID YOU KNOW?
Extra Virgin Olive Oil is high in antioxidants that may help improve heart and blood vessel health.
For more meal inspo, head to the Move With Us App to explore our ever expanding Recipe Library of over 850+ macro and micro-friendly recipes.
Start your journey in the MWU App to enjoy a nutrition experience like no other and feel your best every single day.